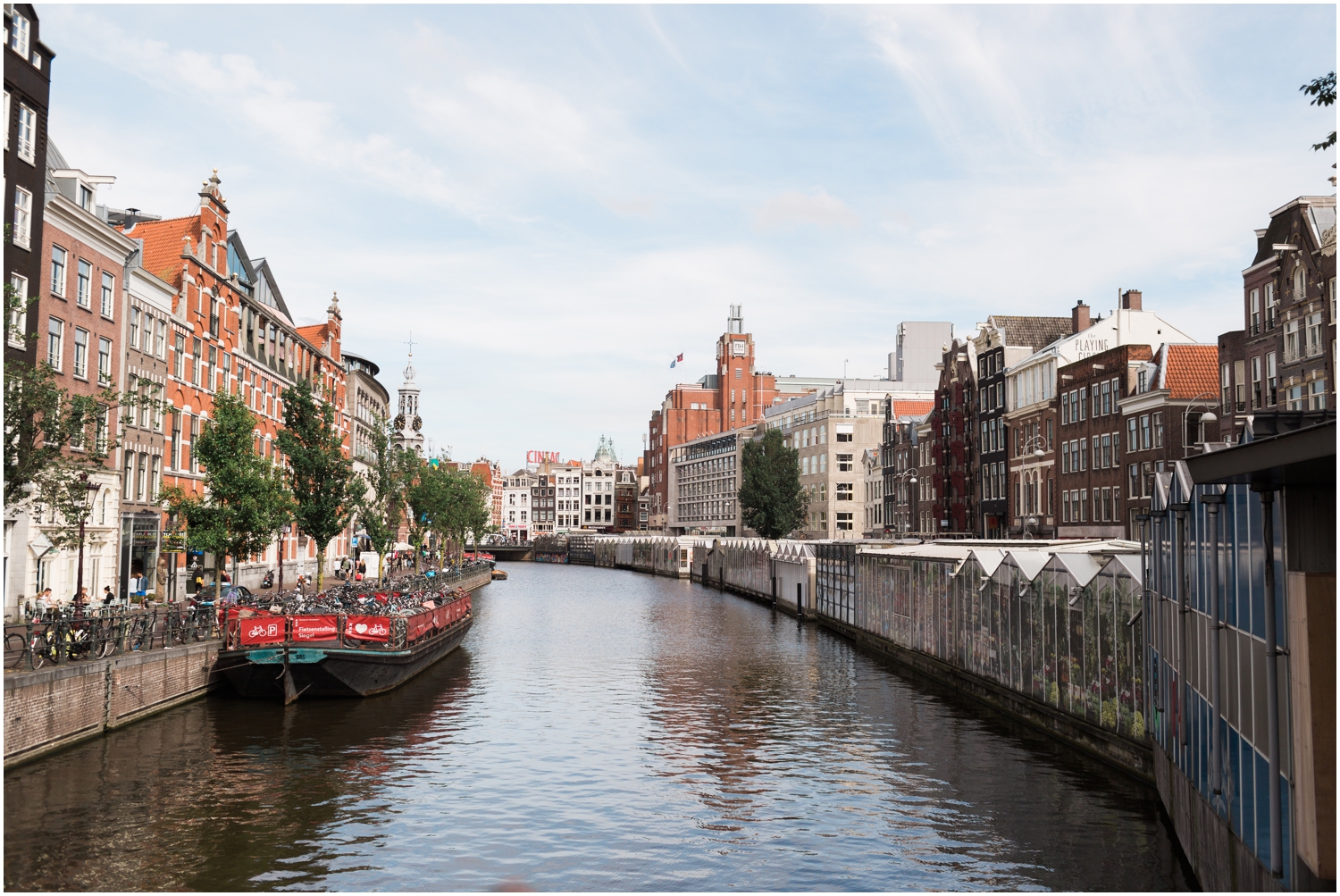 If you've been following along on our European adventures from last summer to Iceland, Ireland, and France, our final stop was the Netherlands. One of the reasons that Nate and I decided to go to both Ireland and the Netherlands was so that we could represent both of our family backgrounds on the trip! Part of my family heritage is Dutch, as my great grandparents came to America from the Netherlands. It was special to see where some of my family came from and the people of Holland are so friendly and welcoming.
We began our Dutch travels with a few days in Amsterdam exploring the city streets, canals, and plentiful museums. Obviously if I lived in the city, I'd spend every day in the Flower Market. But luckily for Nate, traveling and being tourists meant I couldn't buy all the flowers and bulbs on earth. Sad! The Van Gogh Museum is really special and a definite go see in our opinion. The museum is laid out and organized in a careful sequence of Van Gogh's life. At the time we were there, there was also a special extra exhibit about his "madness" which presented different theories and ideas to explain some of his behavior throughout his life. Organizing the museum from the beginning of his life to the end of it allowed you to really see his development as an artist. So many of his early works were so different from his more famous work, as he was trying so hard to emulate the famous Dutch impressionist painters of his time. We also checked out a special pop up Bansky exhibit which happened to be on display during our time there. Although a few of the museums in Amsterdam display some of his work, this was an entire collection of all of his pieces. It was especially interesting viewing his work under the current political climate. So many of his pieces were done over a decade ago but were just as poignant today.
We also managed to escape the city for a day and do the tourist thing in the countryside exploring working windmills, a cheese factory, and the cutest little seaside towns. We visited the little town of Zaanse Schans to check out the windmills. Windmills are seriously magical. I loved seeing plans and papers strewn about and learning about how the mill works. The one we visited cuts logs to make into planks for flooring and building, but each one on the water had a different purpose. Not only were there windmills, but there was also a small farm with the friendliest sheep in Europe (that I've met so far!) I could have snuggled those babies all day! As you'll see below one fella trotted right over to me and lay himself at my feet. It only took 4 countries and 3 weeks for me to be able to love on a sheep. So. Darn. Fluffy.
Anyway, after that we checked out a wooden shoe factory to see how the process can be done by hand. Wooden shoes would be worn by farmers because the land gets so saturated that it keeps their feet protected. We also had the chance to visit a cheese factory where we wanted to buy all the cheese, but restraint and suitcase real estate helped keep us to just two packages. Who wants to help us eat some delicious smoked cheese?!! We rounded out our trip with a visit to the Red Light District, including the Museum of Prostitution which I can't recommend enough. It was fascinating to learn the history of Prostitution and how things are run today. Although it's legal and regulated, the reality is that many, mainly women, are still "forced" into prostitution due to the circumstances under which they arrive in the country and the rent for booths/rooms is extremely high in relation to what people are able to make.
As I finish blogging these European adventures, our next trip is booked and planning is in the works for England and Scotland this summer! Any must dos or sees to add to our list?!