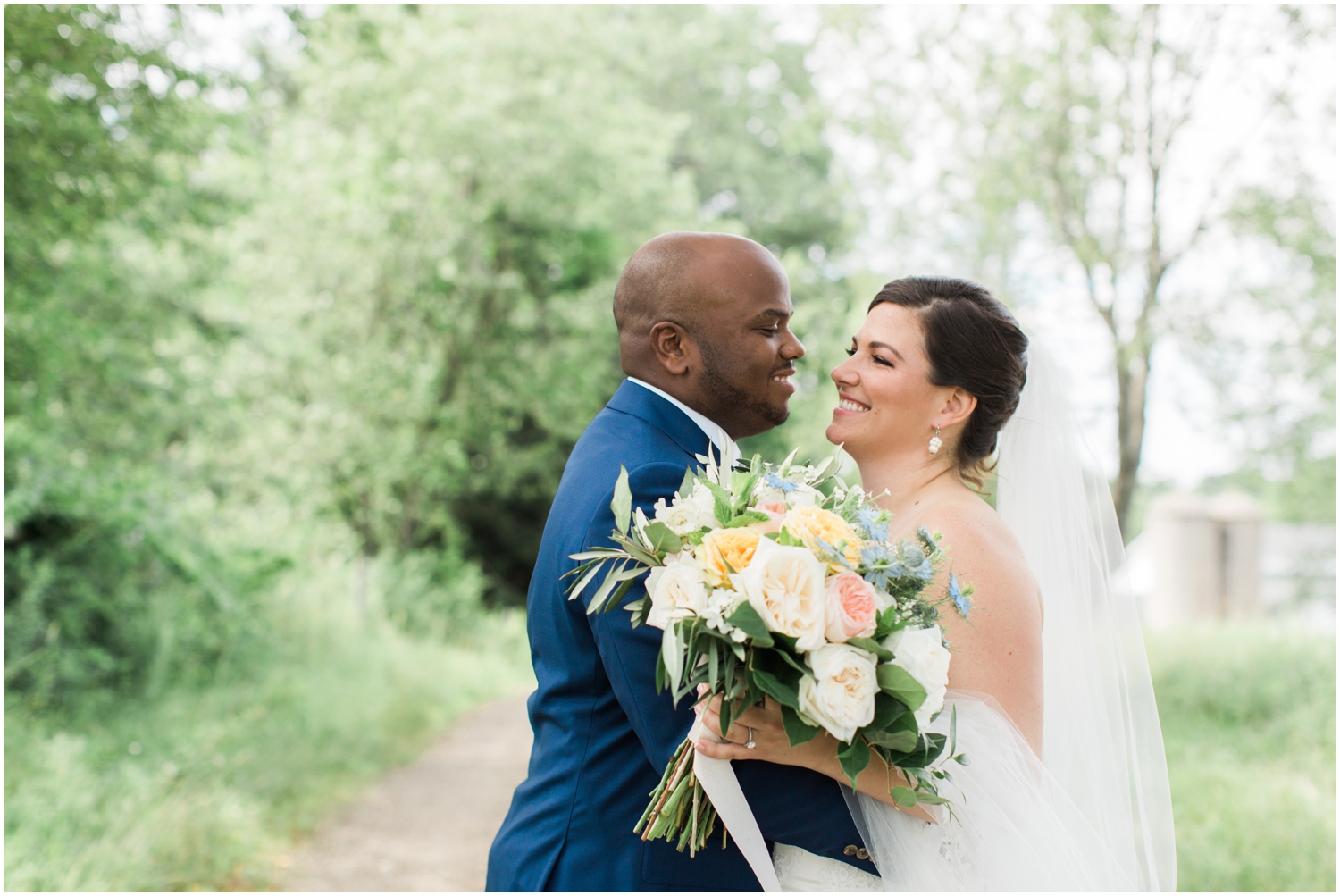 Sarah and OJ were married at South Farms in some seriously heartfelt and emotional ceremonies, surrounded by a whole bunch of family and friends. These two are the kind of people that everyone instantly wants to be friends with – they're kind, generous, loving, smart, and so much fun to be around! So it will come as no surprise that their wedding was the most perfect reflection of the two of them and their families. Sarah got ready at the most beautiful Airbnb, complete with pool and views for days, and I basically wanted to live there forever. The only hint that she might be a little nervous was her quick checks to the weather app to make sure the rain would hold out. (It did, but more on that later!) She was relaxed and everyone bustled around her getting ready. When it came time to put on the dress, it was all hands on deck to get each of the buttons looped and closed! Meanwhile, the men were ready and waiting for us, something OJ seems to be experienced with as it is rumored that Sarah isn't always perfectly punctual. But once we all arrived (safely) Sarah and OJ had their first look up in the fields surrounding the farm and tears were shed (myself included). To have someone look at you the way OJ looks at Sarah is the ultimate dream; you can literally feel their love and connection. They are without a doubt a perfect balance and compliment to each other, so at ease around each other.
When it came time to be married, we moved into the barn to first sign the ketubah, a type of traditional Jewish prenuptial agreement that outlines the grooms responsibilities towards the bride. And although the words and ceremony were brief, the tears were already flowing amongst Sarah, OJ, and their family. I love that they chose to incorporate traditions and aspects of both of their families and heritages as it made for the perfect unification of their backgrounds. As OJ's family is from the Dominican Republic, the marriage ceremony was conducted in both English and Spanish, with Sarah's cousin and OJ's sister officiating. Both Sarah and OJ walked down the aisle with their parents, a little touch that signaled how important family is to them both. They had guests warm their rings before the exchange and read emotional, handwritten vows to each other. It was the kind of ceremony that makes you all warm and fuzzy and need a few tissues. Their joy and laughter for the rest of the day was infectious.
And as I mentioned earlier, the rain held out until after the ceremony and family portraits when the sky opened up! Everyone took shelter in the barn until it passed, leaving behind moody skies and a giant rainbow. If that isn't a lucky sign, I don't know what is! The reception continued with delicious pizzas from the Big Green Pizza Truck and dancing! There were so many favorites parts to the day it was hard to narrow down the photos so I apologize in advance. Get your tissues ready! Congratulations Sarah and OJ – you are truly a reflection of the way love should be!
Vendors
Photographer: K. Engel Photography
Second Photographer: Lina Well Photography
Venue: South Farms
Floral Design: Sarah Worden Natural Design
Caterer: Big Green Truck Pizza and Kitchen Capers
Raw Bar: Matunuck Oyster Bar
Wedding Dress: Bridal Trousseau New Haven
Wedding Dress Designer: Maggie Sottero
Groom's Suit: Marc Allen Fine Clothiers
Hair: Nicole Flagge
Make-Up Artist: Erica Martell http://ericamartell.foliohd.com
DJ: Corey Young