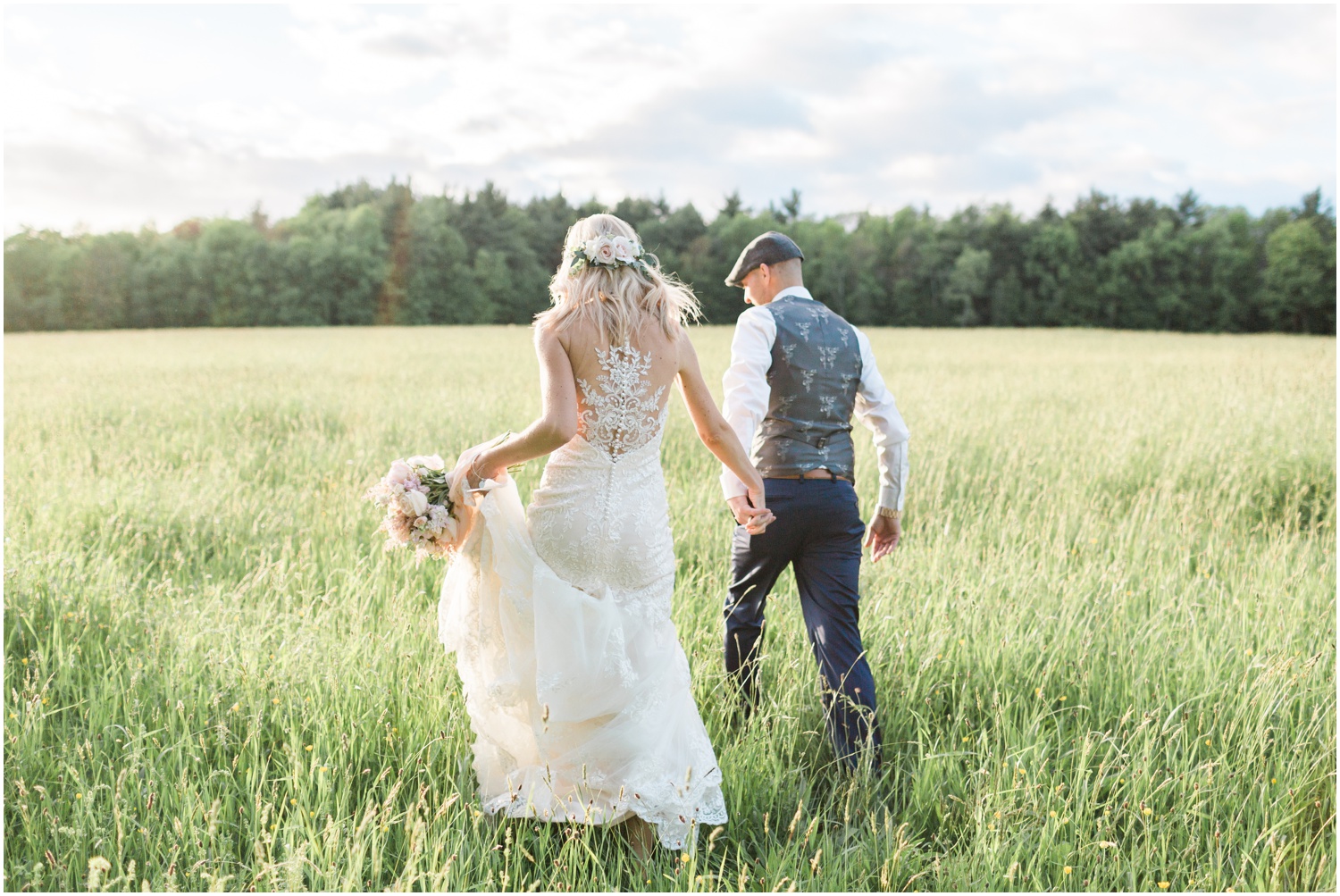 Leah and Mitch's wedding at Bliss Farm was a true labor of love and all of their handmade details and projects came together flawlessly to celebrate them. You might remember their impeccable style and serious love for design from their engagement session at the Brimfield Antique Show. Or perhaps you caught them on Flea Market Flip crushing the competition? (I still want those coffee tables they made! No, but seriously, who bought them and can you please give them to me?) I love how they brought together so many special DIY touches – it made the whole day feel so cozy and welcoming. From the handmade ceremony doors to the window seating chart, they did it all.
But it's not just a good vintage find that connects Leah and Mitch. These two are clearly meant for each other – they challenge each other and balance each other and most importantly have an absolute blast being together. They're the kind of people that you immediately feel comfortable with and you just want to be their friend. I don't think I've ever laughed as much at a wedding! In fact, I laughed so hard I actually cried. Despite the threat of ticks, Leah and Mitch were totally willing to get all up in the field's high grasses to create some serious magic. I think all three of us were completely convinced we'd be covered in ticks but somehow we walked away tick free!
Not only are these two hilarious, but their friends and family are too and they kept me entertained! And they love Leah and Mitch. There wasn't a spot I went all day without overhearing their friends and family remark on them, the day, everything. That barn was bursting with love! But the very best part of the day, the part that escaped many and one I almost missed, came during my last song of the evening in the middle of the reception. A slow song came on; Leah and Mitch immediately started singing along, holding each other so tight. As I photographed them I saw that Leah had tears in her eyes and it just reminded me how much these kinds of moments are the gold of weddings. The best stuff. It was the perfect way to end a wedding, literally feeling the love in the room. Their love. Congratulations Leah and Mitch – you two are gems!
Vendors
Photographer: K. Engel Photography
Venue: Bliss Farm
Catering: Something Special Catering, Inc.
Florals: Tanya Costigan Events
Centerpieces: Fifty Flowers (arranged by the bride)
Make-Up: Hector of MAC
Dress: Essense of Australia from Pearl Bridal Boutique
Headpiece: BHLDN and Boho Halo Company
Shoes: Mod Cloth
Suit: Calvin Klein from Men's Warehouse